In Our Own Backyard - September 2013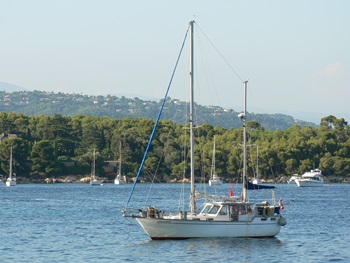 Port Marina Baie Des Anges has been Beedahbun's home port since September 2006. Between then and now our pattern upon arrival at the port during the sailing months of April through October has been to re-commission the boat as quickly as possible and cast off for distant shores. Whether destined for shores we've not yet touched or retracing our wake to anchorages we've come to love and revisit again and again, we usually have only one goal in mind: 'get ready, get set, and go'.
This summer was to be the year we re-visited Corsica and the as-yet unexplored coastal towns and anchorages along the island's eastern coast. Instead, we undertook a major deck replacement project (click here to read about replacing teak decking with cork) and tended to some unanticipated and necessary dental work that required a series of staggered appointments. Ever-conscious that weather could keep us from returning to port (and missing appointments) we were feeling somewhat restricted in our movements. One morning Jim suggested we go to 'the Islands' – a destination that virtually everyone in our port has talked about and visited. 'But it's the weekend', I lamented, 'it'll be a zoo out there'. 'Perfect', he replied, 'We'll get to see what all the fuss is about'.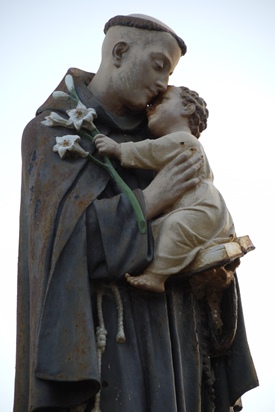 Mediterranean anchorages are beehives of activity during the months of July and August. A combination of runabouts, charter boats, floating gin palaces and cruising boats each with their own version of how to anchor can make for an eventful and sometimes perilous combination – something we've experienced firsthand. As eager as I was to get off the dock, I was just as eager not to be on constant anchor-watch in what we had been told was one of the busiest anchorages in the Med.
Sometimes, however, it pays to throw caution to the wind. Less than two hours later we were 'hanging from the hook' along with approximately 450 other vessels of every shape and size just off Saint-Honorat, the second largest of the Îles de Lérins.
The Les Îles de Lérins are situated directly south of Cannes and so close to the coast that ferries from several mainland ports transport day trippers to and from both Saint-Honorat and the larger Saint-Marguerite. Both islands are captivating in two very different respects. Saint-Honorat offers visitors tranquility in a park-like setting and reprieve from the commercialism that characterizes the mainland coast.
The island is owned and inhabited by Cistercian Monks who discreetly go about their daily routines unseen and unheard save for the punctual ringing of bells that signal prayers and mass. Visitors to the island are welcome and asked only to dress and behave respectfully. We felt both soothed and invigorated by our twice-daily brisk walks around the island and concluded that the forces of the universe were conspiring in our favor to draw us back again and again.
The larger, busier Saint-Marguerite boasts several sand beaches, a well-preserved fortress and a prison that was home to the infamous 'man in the iron mask' during the 17th century. Today a portion of the Fort is used as a youth hostel, a Museum of the Sea has been installed, and one or more art exhibitions are routinely taking place. Both islands are criss-crossed with well-trodden and impeccably groomed walking trails set among giant umbrella pine trees and eucalyptus. Surprisingly, there was not a speck of trash on the trails despite the masses that traverse both islands day in and day out, and, the surrounding water remains crystal clear.
The sea between Saint-Honorat and Saint-Marguerite varies in color from vivid turquoise over white sand to emerald green over lush seaweed beds. Competition to drop anchor in the turquoise areas is fierce because the sand affords better holding. This can cause tension when boats anchor too close in an effort to secure a piece of sand. The first time we anchored off Saint-Honorat we awoke from an afternoon nap to find ourselves surrounded by a dozen or more day boats that had gingerly dropped their anchors less than twenty feet away from us on every side! We knew however that these boats would be long gone by evening so sharing our patch of sand for a few hours was manageable.
What we did not expect from our visit to the Les Îles de Lérins was discovery of a vibrant underwater sea life. In fact, we had long since given up on seeing anything of interest below the surface of the Mediterranean Sea having snorkelled in many less populated areas where there were fewer boats and where the seas were said to be protected. To our delight we saw a brilliant orange starfish clinging to a rock just below the surface and large schools of fish ranging in size from the minute to a foot long and more. We also discovered a bed of dinner-plate sized pen shell clams partially camouflaged in nearby sea grass. How these magnificent mollusks have managed to remain intact while being bombarded by hundreds upon hundreds of haphazardly planted anchors with weaving anchor rode is a true mystery.

By sunset the runabouts had returned to the mainland, the ferries had stopped running for the night, and barely a ripple dimpled the sea. Remaining sailing and motor yachts bobbed gently while their crews saluted the sunset and quietly reflected on the events of the day. Darkness soon descended and the mainland lit up like a sprawling Christmas tree. Not even the sound of jets overhead on approach to nearby Nice airport could overshadow the serenity and magic of the starlit sky.
We have visited Les Îles de Lérins a couple of times this summer and now well understand 'all the fuss' about 'going to the islands'. And to think: these enchanting atolls are right in our own backyard and it's only taken us seven years to find them!