Finding Beedahbun - April 1993: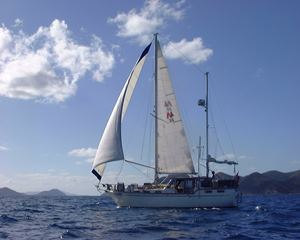 The third time we bare-boat chartered in the British Virgin Islands, we were forewarned by the transplanted Canadian owners of an upscale deli in Tortola that 'third visits' were 'dangerous'. "After our third visit, we flew home, sold everything, and were back in three months" said the sun kissed partner of 'Mary', who added, 'these islands are mesmerizing.many people move here after their third visit or buy a boat.". We exchanged grins and assured them we were simply stealing a few weeks in the sun and recharging our batteries - nothing more. Ten days later as we slid our chartered 30' NONSUCH into her slip, Deb happened to see a vessle "with a nice bow and big windows" moored at a nearby dock. "Isn't she beautiful" she remarked, "I could live on a boat like that". Jim's ears perked up immediately and suggested we have a peak at her. "They say every boat is for sale" Deb added, and off we went to look at BARB, a 36' Nauticat ketch-rigged motor sailor, powered by an 88HP Ford Lehman diesel engine.
We flew home the following day with BARB on our minds and neither of us daring to talk about how much we liked that boat. The day after we arrived home and while Jim was at work, Deb decided to sent a fax to BARB's owner, to ask whether she was for sale and if so, for how much. When the owner responded, with a price, Deb immediately faxed him back and said in part '.if that's in Canadian dollars, you have a deal!". It wasn't of course, but within three weeks we'd flown back to the islands to sea trial BARB and we became a two-boat family or, as one friend less eloquently put it, "the owners of a stink pot and a blow job!"
When people learn that we have a motor vessel and a sail boat, they tend to make assumptions a few of which are that we are wealthy (not true); nuts (perhaps); and at the very least, retired (wishful thinking). After all, 'how do you find time to live on two boats, maintain a land-based home, and earn an income?' they inevitably ask. We'll talk about this in ongoing log entries that are regularly posted in this space in the months ahead.