A New Home Port - September 2006:
We launched Beedahbun in early September filled with much excitement and anticipation. After four months on the hard we were bidding adieu to the boatyard and to Toulon: it was time to move on. Several months prior, I'd submitted a written request to the Capitainerie at Menton's old port for a winter berth and it was in this direction that we set sail.
Menton is often referred to as the 'pearl of France' for its Riviera temperatures, backdrop of mountains, lemon groves and lush gardens. In addition to its pedestrian friendly side streets and seafront promenade, Menton boasts 331 days of sunshine annually and a microclimate sans mosquitos. Freedom from mosquitos was almost enticement enough!
Menton boasts two ports; the more compact vieux port beautifully situated at the foot of the old town and the larger, newer, Port Garavan that is located further east and on the outskirts of town. The anchorage just outside the vieux port has been a favorite of ours for several years. Explorations of this postcard-perfect town both on foot and by bicycle along with the proximity of the old port to the town convinced us that this was the place we wanted to spend at least one winter.
We cast our lines agreeing that an overnight passage from Toulon to Menton was out of the question with the enchanting Ile De Porquerolles only a 4-5 hour sail away and too many attractive ports beyond and in between to consider. After spending several lazy days in an anchorage off Ile de Porquerolles, we set our sights on a slip at Antibes for a few nights so we could spend a bit of time exploring the surrounding area on our bikes.
The timing of our arrival at Antibes' Port Vauban could not have been worse: late on Sunday afternoon boats streamed into the harbour, many cuing up at the fuel dock in order to get a head start the following weekend and many more just as eager to snug up in their berths. The marina staff had bigger fish to fry and a heck of a lot more money to make from tending to the needs of bigger boats than was to be had accommodating a request for a transient slip for an 11 metre yacht. "Complet…ce n'est pas possible", 'we're full up and it's not possible for us to accommodate you'. I explained that we actually were hoping to secure a place for one month thinking this would prompt staff to take our request more seriously (it did not). My enquiry about an alternative port was met with a wild hand wave pointing us further along the coast.
While cruising, one piece of advice that we have heeded as much as any other is to avoid private marinas. There is a widespread perception in the cruising community that private ports like private yacht clubs cater exclusively to the bigger and richer among us. Until now we could not attest to this rumor one way or the other because our practice had been to skip over any reference to private ports in the cruising guide and set our sights on where we knew anchoring, gratuit moorings, or modestly priced berths were said to be available. As the sun set and dusk descended, page flipping was no longer an option.
The Capitainerie at port Marina Baie Des Anges responded to our VHF transmission on Channel 9 and enthusiastically welcomed us to tie to up at the fuel dock and met us on the quai. As we entered the entrance of the harbour I immediately spied a large building portside with the words 'Gym' and 'Thermo Spa' mounted on the seaside wall. I knew in an instant that we were meant to be in this place.
The following day our request to stay an additional night was granted; we liked this port and wanted to explore. Later that same day we secured a berth for one month!
We were not expected in Menton until October 1st, and although I was confident that we would be accommodated if we arrived earlier (the power of positive thinking), Jim was more pragmatic. Marina space is at a premium in the Med; there are far too many boats looking for far too few berths and competition for space is fierce. Our need to secure a safe, secure place for one month was especially urgent because we had friends arriving from Canada in one week who were joining us on a self-guided hiking trip on Corsica. Jim argued and sensibly so that we simply could not chance arriving at Menton only to discover that no space was available before our reservation date.
Once installed in our assigned berth at Marina Baie Des Anges, we began to think that this might be the port we wanted to 'make home'. The friendliness of the staff, the availability of reliable amenities on the quai, the cleanliness of the showers (and the port overall), and the wonder induced by the architecture of the sail-shaped condominiums embracing the harbour filled us with awe. And the prices? Let me just say that we no longer make assumptions about private ports. In fact, we paid less for our winter slip than the going rate for a same-sized slip in Toulon. Upon return from our Corsican hiking expedition, we wasted no time in submitting an application for a 'winter berth'.
Although marinas in the south of France and along the Italian Riviera have a reputation for being full to overflowing, the winter months often bring a different story. During the off-season months that are typically defined as October 1st through March 31, almost all marinas offer significant reductions on their vacant berths. Daily rates can be had for 30-50% less, and boats seeking a winter berth at similar discounts. These 'deals' come about when those who own their berths haul their boats out of the water for the winter months either for repairs or to generate income that helps to offset their overall annual costs. Where berth ownership is not an option (in commune-operated marinas, for example) and berths are leased on annual contracts, the Capitainerie is expected to fill space and generate as much income as possible.
Our application for a winter berth was approved and a few months later to our utter amazement the berth became available to us on an annual contract. I was (and remain) convinced that the forces of the universe were conspiring on our behalf when we were turned away at Port Vauban and pointed in the direction of Marina Baie Des Anges.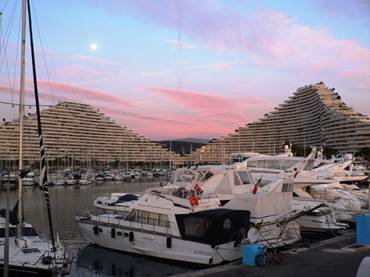 There are some who may perceive an annual contract and commitment to a home port as another anchor that destines one to become and remain a 'marina rat', an expression that we shudder to think will ever apply to us. To the contrary, we have found that having a 'place to come home to' has expanded our cruising grounds and allows us a measure of liberty to come and go for as little or as long as we desire without the stress of worrying if and where we might find a berth.
And what of Menton? Well, when we notified the Capitainerie that we would not need the berth we'd reserved for the winter of 2006-2007, he politely informed us that our application had in fact been rejected because no berths were to be had. A letter confirming this information had been faxed to our office in Canada but it had arrived long after we'd flown back to France and therefore remained unbeknownst to us. The forces of the universe were looking after us indeed that evening in September when we sailed into Marina Baie Des Anges.