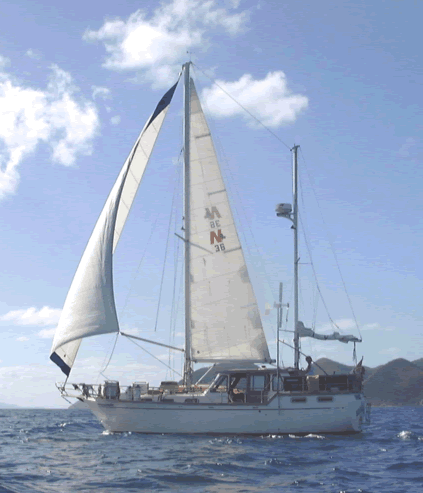 Replacing Teak Deck with Cork: August 2013


After 28 years the teak decks on Beedahbun were in dreadful shape. The few planks around the outside edges were still well attached with a white adhesive. The majority of the planks however were attached to each other but not to the deck. Once the screws holding the planks down were removed, large sections could be easily removed


We replaced the old teak with cork purchased from Aegir Cork Group in France. We chose cork for a number of reasons:
cork will last twice long as teak
we had the skills to install the cork but not new teak
cork is glued down, new teak can be glued down with great difficulty but is nomally screwed down (2000 new holes in the deck - no thanks)
cork costs half as much as teak
cork doesn't try to look like teak, it has its own distinctive and attractive "look" especially with white caulking between the planks.
We are very happy with the results (see below). A PowerPoint slide show about the project including before shots, installation details and after shots can be downloaded by clicking here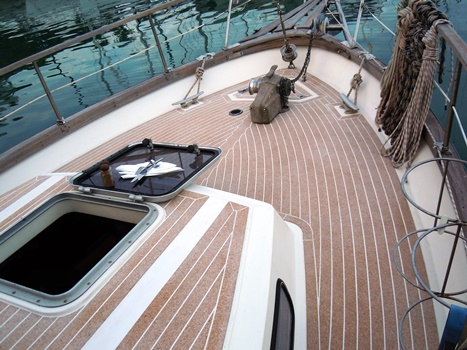 Update: December 2003
Much has happened in our liveaboard life since we posted this web site in mid 2000. We are currently tucked into a slip at the Port de Plaisance de Toulon in Toulon France for the second winter where we are continuing our love affair with all things French.
In mid 2000, we were celebrating the publication of Changing Course, and still enjoying twice annual sojourns to the sunny Caribbean. In January 2001, after several years of part time cruising in the Caribbean, we lifted anchor and ventured northward. We were eager to explore new horizons, and, having honed our sailing skills in the benign waters of the British Virgin Islands (BVIs), felt ready for more challenging waters and winds (see my article, 'Leaving the Nest'). From the BVIs we sailed to St. Thomas, the largest of the US Virgins, where we waited for a good weather window before making for Culebra, the second largest of what are commonly referred to as the Spanish Virgins. We hopped along the south coast of Puerto Rico, joining up with friends in Ponce PR who were eager to share a part of our adventure. The four of us continued on to Boqueron on the west coast where we waited for a window to cross the Mona Passage to the Dominican Republic.
The Mona Passage is often described as one of extremes – it's either extremely calm or extremely rough owing to converging seas and confused winds. Our adrenaline was put to the test not by wind and sea conditions but by Jim's landing of a good sized Dorado several hours into the passage. Holding the boat's nose into the winds while he and Rob hauled our trophy aboard caused some anxious moments as the waves rolled us about but any discomfort was long lost on us the next evening in port when we feasted on this delicacy.
The passage from Boqueron to Samana took 27 hours. This was the first of only two overnight passages we made during the entire voyage north to Florida. Our quest to lay an anchor as often as we could was motivated by our desire to visit as many places as possible along our northward track, and to provide a little terra ferma for our first mate, Sydney. Our second overnight passage took us from Samana to the southern most island of the Turks and Caicos chain, Sandy Cay. From here we deviated from the well-worn track taken by most cruisers and headed due north to visit Grand Turk and the South Caico Islands. Clearing customs at Grand Turk, we learned that we were only the fourth sailboat to have cleared customs that year! This helped to explain why we drew a crowd as we set an anchor an hour later as the sun dipped into the sea behind us.
From Grand Turk we made for the South Caico Island and then on to Ambergris Cay before heading across the Caicos Banks. Once across the Banks, we tucked into Sapodilla Bay on the southwest corner of Providenciales for a few days before seeking more protected shelter in Turtle Cove on the north side to wait out a storm. Once the storm blew out, we set a course for Abraham's Bay on Mayaguana Island, the southern most of the Far Out Islands in the Bahamian chain. From Mayaguana we journeyed in a northwest track that took us to anchorages at the Plana Cays, Acklins Island, Crocked Island, Long Island, and Rum Cay before we settled in with approximately 300 other boats at Georgetown in the Exumas (see my article, 'Afloat In The Bahamas'). Securely anchored off Stocking Island, we soon discovered why so many southbound cruisers get as far as Georgetown and go no further. Within dingy distance of Georgetown you can have as much or as little privacy as you want, and take part in many, some or none of the many happenings all of which are coordinated by other cruisers. There's even a local 'radio station' on VHF that broadcasts updates on everything from weather to fish fries to who is flying to the mainland and will happily carry letters requiring posting.
We were entertained by Georgetown for five days then continued north through the Exuma chain with stops at Black Point, Staniel Cay, and Allan's Cay before taking a slip in Nassau for the Easter weekend. We'd been warned about trying to anchor off Nassau where currents run swift and change suddenly with the tides. This necessitates being on board in the event anchors drag. Traffic is also heavy (and large!) which makes for sleepless nights. We were glad we'd opted for a slip after hearing how others faired a few days later. The highlight of our stay in Nassau was walking through the daily market where fruit, vegetables and fresh fish in particular, were in abundance. Nassau was nothing like we expected. The windows and doors of all the shops were shrouded with steal bars, which suggested that crime was a problem. Entry was gained by ringing a buzzer and as shopkeepers peered out at us I felt decidedly uncomfortable. After 3 nights in Nassau we were eager to continue northward and lay anchor in a cove we could call our own.
Disney Island, or Little Stirrup Cay, as it's officially known, is a tiny, storybook island that serves Disney cruise ship guests exclusively. We anchored off and went ashore with Sydney after obtaining permission from a few of the staff who were enjoying a swim. Once ashore, a rather belligerent fellow claiming to be the manager, insisted we leave immediately despite our explanation that we'd sought and received permission to go ashore. The eagerness with which he wanted us off the island prompted us to wonder what we had interrupted. At dawn the next morning a Disney cruise ship appeared on the horizon and headed directly to Little Stirrup Cay. As we crossed its wake we hoped its guests were greeted more enthusiastically than we'd been.
Xanadu, on Grand Bahama Island, was our last stop before crossing the Gulf Stream. We had decided some time prior that we'd stage for crossing the Gulf Stream from here because it was situated mid way between Little Stirrup Cay and West Palm Beach Florida. Had weather cooperated we very likely would have spent a few days exploring Grand Bahama Island however Herb, every cruiser's weather guru, advised us to "get across tomorrow" because a large system was moving in the following night and would create unnavigatable conditions for days. At 4 AM with a search light in hand, we gingerly motored out of the large, well-equipped marina that we had shared with only one other vessel and headed due west. There was hardly a breathe of wind and seas were calm so we motored for most of the crossing. We entered the ICW at West Palm Beach at 5 pm and within an hour had set an anchor and made for shore with Sydney.
The ICW fascinated us. It's teaming with sea life as evidenced by the many dolphin that swam alongside us nearly everyday, and is all the more remarkable for the safe passage it provides for cruisers who want to travel at a leisurely pace between the Chesapeake and the Florida Keys. It's not completely benign however. Care must be taken to 'follow the line' on the charts; even the slightest deviation for a moment or two could find the most conscientious among us grounded. Fortunately, the bottom is mostly mud, and if a high tide doesn't refloat a vessel hung up on a sandbar, TowBoat US is just a VHF call away. Numerous cruisers had forewarned us that touching bottom on the ICW was inevitable and going to happen more than once despite our best efforts. This proved to be true but no less nerve racking because we'd never had the keel of our beloved vessel scrape the bottom anytime previously. Ever-shifting sandbars especially at the mouths of inlets to the Atlantic found us with one eye on the depth finder, another on the chart, and another pair fixed on the waterway at all times.
We hauled out in Thunderbolt, Georgia and Beedahbun remained on the hard until we returned to Georgia five months later. We spent the following winter plying the ICW between Hilton Head SC and Miami Florida, at times planning to go further south (to Cuba at one point) and at other times heading north for summer on the Chesapeake. We fell in love with Georgia and could never figure out why so many southbound cruisers "couldn't wait to get through Georgia". Based at a modest marina in Thunderbolt, Tidewater Boat Works, we had easy access to Savannah on our bicycles and neighboring communities. And, because we'd driven south, we had access to our car, moving it along the ICW as we moved the boat. We lingered in Thunderbolt longer than planned and returned there on three separate occasions as our plans swung north and south and back again.
The idea of sailing across the Atlantic to the Med was also something we considered, abandoned, and then began to tinker with once again. In April 2001 we shipped Beedahbun across the Atlantic on Dockwise Yacht Transport – but not before we explored shipping her across as deck cargo on a freighter with the help of a very generous and resourceful freight shipper, Jack Fitzgerald, who is situated in Savannah. I'm writing an article about shipping options that details costs as well as the pros and cons of shipping versus sailing a vessel across the Atlantic. Look for this in the future.
As stated at the outset, we are currently based in the Med and anticipate spending the next dozen years or more exploring the many foreign shores that fringe the Mediterranean Sea. When we tire of Turkey, Croatia, Italy, Greece, Tunisia, Malta, Spain and Portugal, countries on our must-see list, we'll explore the canal system throughout France, make our way to the English Channel and beyond that, who knows. Stay tuned!

What's in a name?
Sailing folklore has it that it is bad luck to re-name any vessel however neither of us wanted to live on a boat named after someone else's wife regardless of what a fine person she was. But Deb did not want to chance angering the Gods by changing Barb's name in anything less than an acceptable fashion so she researched the origins of the re-naming folklore and discovered a way to re-christen our vessel without drawing the angst of Neptune and other dieties. First, she wrote a lengthy tribute to BARB aptly titled 'Ode to Barb' that acknowledged BARB's many feats and deemed her worthy of retirement. BARB was bid farewell with a generous splash of the best champgne we could afford (we were warned not to skrimp on the champagne as the Gods would know!), and then Beedahbun was 'welcomed' with no less fanfare, an equally expensive bottle of champagne, and a written exposition that brought tears to the eyes of many and smirks to the face of a few naysayers who thought we'd lost our minds by throwing champagne around while making speeches to the Gods. A jolly good time was had by all in attendance, to say the very least, and the Gods continue to be kind.
Bee-DAH-bun is an Ojibway word (Chipewa, if you're American) which means 'dawn', 'new day' or 'new beginnings'. Our acquisition of Beedahbun represented a major change of course in our lives - a course that continues to be characterized by new beginnings as we gain experience and expand our cruising grounds.
Buying Beedahbun:
The third time we bare-boat chartered in the British Virgin Islands, we were forewarned by the transplanted Canadian owners of an upscale deli in Tortola that 'third visits' were 'dangerous'. "After our third visit, we flew home, sold everything, and were back in three months" said the sun kissed partner of 'Mary', who added, 'these islands are mesmerizing…many people move here after their third visit or buy a boat…". We exchanged grins and assured them we were simply stealing a few weeks in the sun and recharging our batteries - nothing more. Ten days later as we slid our chartered 30' NONSUCH into her slip, Deb happened to see a vessle "with a nice bow and big windows" moored at a nearby dock. "Isn't she beautiful" she remarked, "I could live on a boat like that". Jim's ears perked up immediately and suggested we have a peak at her. "They say every boat is for sale" Deb added, and off we went to look at BARB, a 36' Nauticat ketch-rigged motor sailor, powered by an 88HP Ford Lehman diesel engine.
We flew home the following day with BARB on our minds and neither of us daring to talk about how much we liked that boat. The day after we arrived home and while Jim was at work, Deb decided to sent a fax to BARB's owner, to ask whether she was for sale and if so, for how much. When the owner responded, with a price, Deb immediately faxed him back and said in part '…if that's in Canadian dollars, you have a deal!". It wasn't of course, but within three weeks we'd flown back to the islands to sea trial BARB and we became a two-boat family or, as one friend less eloquently put it, "the owners of a stink pot and a blow job!"
When people learn that we have a motor vessel and a sail boat, they tend to make assumptions a few of which are that we are wealthy (not true); nuts (perhaps); and at the very least, retired (wishful thinking). After all, 'how do you find time to live on two boats, maintain a land-based home, and earn an income?' they inevitably ask. We'll talk about this in ongoing discussions that are regularly posted in this space in the months ahead.