Across the Atlantic in 14 Days in a 36' Ketch
Not as Impossible as You Might Think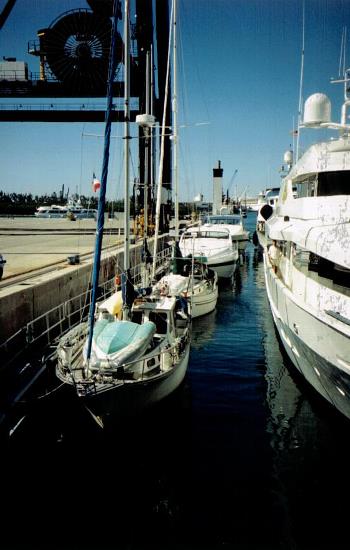 North or south? We weren't ready to head east across the Atlantic just yet. That was our quandary during the winter months of 2002 as we traversed the Inter Coastal Waterway (ICW) between Miami and South Carolina first heading north then south then north again as our cruising plans changed almost as constantly as the wind. As part-time cruisers, we tend to move at a leisurely pace staying for as long as we like wherever we like. We've been known to spend several months in places others have rejected with nothing more than a cursory glance and it's in these 'undiscovered' venues that we have learned the most about ourselves and others. The eight years we spent in the vicinity of the British, Spanish and American Virgin Islands before voyaging north is one example of our proclivity to stroll rather than run. Being part-time cruisers means we are not bound by the same kind of time lines that those on sabbaticals must adhere to in order to fulfill a predetermined agenda in one, two or five years. Since we don't need to be in a specific place be by a specific date, we simply haul out wherever we end up, return to Canada for several months to restock the cruising kitty, and then return to the boat and pick up where we left off.
From all accounts the Chesapeake is at its best in May and June but the same can be said for the Bahamas and Cuba. Whether we pointed the bow north or south one thing was for certain: we planned on sailing our 36' motor sailor ketch, Beedahbun, across the Atlantic in two years time. By then we would have completed some necessary modifications to our vessel to improve her seaworthiness, and more importantly, have had a few more passages under our belt and more confidence about making what is typically a thirty-day passage if we straight shot from the east coast of the States to Gibraltar. It was during discussions about our two-year plan with a fellow cruiser in Savannah that the possibility of shipping our vessel rather than sailing her across the Atlantic began to take shape. "Have you considered shipping her as deck cargo right out of Savannah?" our friend asked. Several years prior we had watched in awe as cranes stacked charter boats on a triple-decker ship designed specifically to transport hulls from the Caribbean to the Med and back. It made good sense to take advantage of the high season in the Med and capitalize on the slow season in the Caribbean by positioning charter boats where they were most in demand. We watched as masts were stepped, hulls were lifted from the water in slings and then positioned in cradles layer upon layer with a series of removable decks in between. Inquiries revealed where the boats were headed and why, and yes, there was sometimes room for private vessels. The cost, a flat rate of $14,000.00 (US), was clearly out of our budget and we didn't give the notion another thought until our friend revived the idea many years later.
Within hours of what was a cursory discussion at best, we set about exploring exactly what shipping over as 'deck cargo' entailed. Six weeks later we were Med-bound and two weeks after that Beedahbun was Med-moored in a slip in the south of France. We didn't ship out as deck cargo – we discovered an even better option – choosing instead to be transported across the Atlantic on a yacht transport ship using a method that still strikes us as just short of magical. During the intensive investigative process that preceded our voyage, we researched a variety of alternatives to sailing the boat ourselves by speaking directly with the shippers and with those who had chosen one of several methods we had explored. What follows is an accounting of the advantages and disadvantages inherent in every choice, and the hope that you will be inspired to think about expanding your cruising grounds to destinations you previously considered out of reach.
Until the early 1990's, the notion of moving a sailboat less than 29 feet across the Atlantic was a feat tackled by the most adventurous few among us, and powering a motor boat under forty feet over a similarly sized body of water, downright absurd. Sailing vessels clearly enjoy more liberties than power boaters on open seas in part because of design and most certainly due to fuel efficiencies: smaller power vessels simply does not have the fuel range. For these reasons, owners of smaller powerboats and sailboats have been limited to coastal and fresh water cruising that allow for refuge in nearby harbors and marinas when weather conditions turn nasty and fuel gages run low. Short of sailing the vessel your self or hiring a delivery crew, options for transporting vessels across large expanses of water were few. Deck cargo was reserved largely for makers of vessels transporting their wares to markets around the world; cost and availability were but two factors that put this option out of reach of the average cruiser.
The benefit of sailing your own vessel across the Atlantic and beyond, is first and foremost the sense of accomplishment and personal fulfillment that comes from doing what few are able or wanting to experience. The secondary benefit cited by many is the perceived economy of sail. Without doubt the number of pleasure cruisers who have sailed across the ocean has increased tenfold in the past few decades however this achievement still remains that of a very few comparatively speaking. The economy of sailing one's own vessel across the Atlantic is debatable. As we contemplated this option, we tallied the costs of outfitting our vessel for an ocean crossing, the inevitable wear and tear on the vessel, and more significantly, the costs of making repairs because there are invariably 'things that break' or stop functioning after such a long voyage. Most people we spoke with reported one repair for every day it took to complete their crossing. In the words of one cruiser: "Thirty-eight days and thirty-five repairs – not bad all things considered". As we debated our options we questioned the economic value when sails and/or portions of rigging had to be replaced before we could leave the port at which we'd just arrived. And, while both of us love the sense of self-sufficiency that comes from traveling with one's home in tow and discovering seldom-frequented shores, neither of us yearns (yet!) for the sense of accomplishment that is inherent in an ocean crossing.
There are other economic considerations as well: for example, because our offshore sailing experience is not extensive, we would need a crew of two who needed to be fed, paid a per diem (possibly), and then flown to a point of departure and from a place of disembarkment. Some cruisers use family and friends to crew on long passages however, an Atlantic crossing requires a longer commitment than most can make, and the airfares associated with flying one crew out and another in can be exorbitant. Most insurance companies require a crew of four on vessels making transatlantic crossings; venturing forth without coverage was not an option for us.
All told, we estimated the cost of sailing our vessel across the ocean ourselves to be in the neighborhood of $ 12,000.00, including vessel preparation expenses and excluding the costs of making any repairs. Also excluded is the loss of wages for time that could be spent stocking the cruising kitty. While the costs referred to are based on a non-stop, thirty-day voyage, in reality we would be looking at a month to prepare our vessel, and a six to eight week voyage with stops in Bermuda and the Azores before reaching Gibraltar (assuming no time to make repairs and conducting only routine maintenance). Since neither of us is retired, the income we generate while land-based or by pounding our computers while at anchor in a sheltered cove, enables us to extend the amount of time we can cruise.
Hiring a crew to sail your vessel across the Atlantic is another option, however, this is no longer a viable alternative relative to other yacht transport options. We made inquiries directly with qualified delivery Captains and were quoted rates ranging from a low of $300.00 per day for a husband-wife delivery team to a high of $500.00 per person per day – food was extra. The main disadvantage to hiring a delivery crew independent of their fees is the wear and tear and inevitable repairs that are often greater when someone other than the vessel's owner is at the helm for such a long period of time.
The deck cargo option is one we researched extensively in part because we had the pleasure of consulting with some of the best 'freight forwarders' on the east coast of the United States. Among these were Patrick and Donna Griffin situated in Fort Pierce Florida, and Jack Fitzgerald, in Savannah Georgia (contact information for both appear at the end of this article). We also interviewed expert shippers in Jacksonville Florida, and Portsmouth Virginia. Freight forwarders work with shipping companies large and small to fill containers, holds and deck space on cargo ships. Every ship is equipped and configured differently, and since none have been designed expressly to transport boats, the preparations for shipping vary considerably as do associated costs. Whether the vessel can fit into a container or not (and most boats can not), the owner must arrange and pay for the following with few exceptions:
Hauling the vessel to facilitate construction or fitting of a cradle;
Transporting the cradle to the ship;
Proof that the cradle has been surveyed and found suitable for the voyage);
Stepping and transporting the mast to the port of embarkation;
Shrink wrapping of vessel (optional);
Slings for lifting the vessel from the waterline onto the ship (when not being transported to the port on land);
Haul out and overland trailer transport to the port (where the vessel cannot be lifted from the water directly onto the ship),
Port handling fees at both the ports of embarkation and disembarkation;
Freight fees (varies according to overall dimensions and weight of vessel);
Insurance (existing coverage generally does not cover transport by another vessel)
Upon arrival at the port of disembarkation, the vessel's owner must be ready to meet the ship and retrieve her vessel or, have arranged in advance for an agent to do so on her behalf. The slings and cradle are the responsibility of the owner to dispense with. In view of their costs, these are not items that one wants to discard however, neither does one want to hang around trying to sell them. One option is to store the cradle and slings for the return voyage, however, it is very unlikely that your port of entry to Europe will be the same port from which you deport when you decide to cross back.
Charter boat companies in the Caribbean were among the first to discover that boats that sat idle in the heat of the summer and through hurricane season could be put to use in the Mediterranean where increasing numbers of pleasure boaters were choosing to spend their holidays. The most economical and expedient way to transport a fleet of charter boats from one continent to the next is via a ship designed specifically for this purpose. Sunsail, one of the largest charter boat companies in the world, acquired and reconfigured a transport ship expressly for this purpose. Depending on space and size restrictions, a small number of private sailing vessels are able to take advantage of this form of transportation to carry their boats between the Caribbean and the Mediterranean. This particular option, while appealing to those who want to spend the winters in the Caribbean and their summers in the Mediterranean, with minimal time spent traveling between the two, is restricted to those vessels based in either of these locations.
A more recent yacht transport system, and one that is now accessible to Canadians on the west coast of Canada in addition to those cruising the east coast of the United States, is the revolutionary float-in / float–out method made possible by Dock-Wise Yacht Transport. This was our boat transport choice and that of increasing numbers of cruisers who face dilemmas similar to our own: how to get across a large expanse of water in minimal time, at minimal risk to crew and vessel, and at minimum overall cost. The float-on/float-off method is as simple as it sounds: the ship fills her ballast tanks until the main deck sinks to the level of the deepest keel scheduled for that particular voyage, usually about 12 ½ feet. Power and sailing vessels ranging in size from less than 29 feet to more than 150 feet are driven into pre-designated spaces and carefully positioned within inches of one another. While crew take lines and secure the vessel above water, divers work underwater to position the vessel on cribbing or keel blocks. Positioning is carefully based on measurements obtained from vessel blueprints provided by owners well in advance. Once every vessel is in place, the ship is re-floated and additional support frames are welded firmly to the deck to prevent any shifting while at sea. When the ship arrives at its destination deck welds are broken, and the ballast tanks filled in preparation of sinking and disembarkment.
Those owners fortunate enough to qualify as 'riders' - 1 person per vessel over 80 feet is allowed to accompany each vessel at no additional cost - drive their boats off the ship, clear customs independently, and head off in various directions. If space permits, and this is often the case in the crossings between December and early March, owners of smaller vessels may be able to accompany the ship for a nominal daily cost that covers their meals. The crossing from Fort Lauderdale to Toulon France takes fourteen days. While underway, many riders use the time to their advantage by making repairs and installations, and applying bottom paint since the boat is 'on the hard'.
Preparation for the float-on/float-off method is minimal: we left our masts intact, and sails affixed and furled; the BBQ remained attached to the stern rail, and the dingy stayed inflated and tied on deck. Our vessel arrived without so much as a scratch ready for cruising the Med. Since we had stocked the boat with non-perishable provisions before leaving Fort Lauderdale to maximize our buying power, we had only to clear customs and provision with fresh foods before embarking on our Mediterranean odyssey.
Dock-wise now provides transport insurance as part of its package; when we shipped over two years ago we were required to show proof of insurance, a special rider that we purchased from our regular broker. While arranging for coverage we learned that our choice of boat transport company directly affected the premium we paid: as the most reputable company in the business, our premium was significantly lower than it would have been had we opted for a deck cargo option with a lesser or unknown carrier. In one example, insurance was three times higher!
Of all the options explored, the least expensive in terms of actual out-of-pocket expenses was the float-on/float-off method. The benefits in terms of reduced risk to the crew and vessel are immeasurable. One thing we have learned from our boat transport experience is that no vessel, regardless of size, need be constrained from exploring the wonder of the Mediterranean and beyond. Just as the Internet has made the world more global and connected, so too has a yacht transportation system that can take cruisers of motor and sailing vessels to jump off points at every corner of the earth.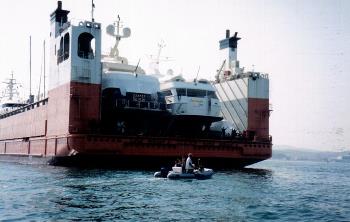 In addition to ports in the Mediterranean and along the east coast of the United States, Dock-wise services select ports along the Pacific West Coast including Vancouver and Costa Rica, northwest Europe, the Caribbean, and the South Pacific including Auckland, Brisbane and Papeete. For more information, visit their website at www.yacht-transport.com.
Readers interested in exploring deck cargo options may wish to contact Patrick and Donna Griffin (situated in Fort Pierce Florida) at: www.boatshipping.com
Jack Fitzgerald Freight Forwarders, situated in Savannah Georgia, can be reached at shipit@fitzgeraldforwarding.com
Lastly, a note about transportation quotations is in order: Don't be surprised if you receive vastly different quotes at different times of the year from the same transport company. Transporting your vessel to the Mediterranean in May or June for example, is going to be far more costly than it will be in December or January. In addition, don't discount the possibility of very good 'last minute' values to fill space made available by a last-minute cancellation.